Sometimes your smile needs a little help, and that is where cosmetic dentistry comes into play. Cosmetic dentistry includes a wide range of treatments. Some, like teeth whitening, are really just to improve appearance, but others, like composite fillings, are designed to protect the health of your teeth while also beautifying your smile. At Walton Center for Family Dentistry, we offer the following cosmetic dentistry procedures as well as others.
Composite Fillings
One of the most common corrective dental procedures performed today, composite dental fillings offer several benefits over traditional silver-colored amalgam fillings. Comprised of a natural-looking glass and composite material, they cosmetically blend in with the rest of your teeth and adhere to your tooth's surface, allowing for less drilling and more of the tooth's natural structure to remain intact. Although receiving composite dental fillings is a minimally-invasive restorative dentistry procedure, it can make a significant difference in the appearance and health of your smile.
Implants and Dental Crowns
For patients who are missing teeth, dental crowns and implants are a popular cosmetic procedure. Implants consist of titanium or zirconium rods implanted into your gums. A crown is then placed on top of that. You can get ceramic or porcelain crowns that are designed to complement that natural shape and color of your teeth.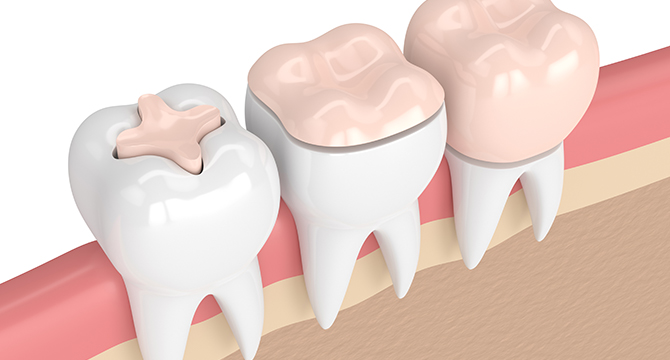 Bridges and Dentures
Bridges and dentures can also be considered cosmetic dentistry. They are an ideal option to consider if you are missing multiple teeth in the same arch of your mouth. Dentures can be permanently anchored with implants, or they can be designed to be removable. Our dentists can help you figure out the best option to repair your teeth and complement your lifestyle.
Repair for Chipped Teeth
If you have a crack or a chip in your tooth, our restorative experts can also repair that. We use high-density bonding materials such as composite resin or porcelain, and we use that to fill the crack and smooth out the appearance of the tooth. We can also repair teeth that are too pointy or teeth that don't match the surrounding teeth for any other reason.
We look forward to meeting you and helping you get your ideal smile.